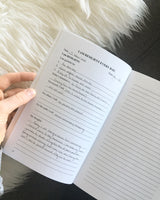 Gratitude
28 days of intentional gratitude ritual helps us to rewire our brains for optimal mental wellness. Gratitude may be the tool that unlocks our potential to be purposeful and fulfilled in life. 
Gratitude has changed my life. By finding even the smallest thing to be grateful, I am able to totally change the way I feel. 

Anonymous
I am loving my journal. I knew I would, but I didn't realize how much!!! What I love the most is the simplicity and repetition. Other intention journals have been overwhelming for me and require way too much THINKING rather than gentle reflection. I am so glad I got one!

L.M.
I have always known gratitude was beneficial, but I needed a tool to make it simple.

Anonymous
I have added I AM RESILIENT journaling to my toolbox to prevent situational depression 

Anonymous
I've filled up 2 and I am on to number 3!

Anonymous
Nikita is a compassionate, thoughtful and inclusive leader. In her workshops on resilience I felt immediately at ease with her gentle, calming presence. The time was structured well with time for some teachings and then space for student reflections and discussion. Tea and snacks gave a cozy informal atmosphere. Also, her journal on gratitude was a great resource and a gem for students to take home. I highly recommend Nikita as a leader due to her gift for providing a safe, collaborative and inclusive space.

Zoe W.B.
I really appreciated the discussions in our small group and chatting with you. It was the perfect interaction for me at that time.  It helped me recognize the importance of self respect in my resilience.

Candace